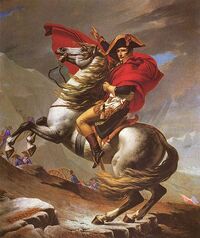 Bonapartism is an ideology based on an a strong and centralised regime founded on popular consent, safeguarding social order and social equality, named after its creator, Napoleon Bonaparte.[1]
Ideology
[
]
In French political history, Bonapartism has two meanings. The term can refer to people who restored the French Empire under the House of Bonaparte including Napoleon's Corsican family and his nephew Louis. Napoleon left a Bonapartist dynasty which ruled France again; Louis became Napoleon III, Emperor of the Second French Empire and was the first President of France. In a wider sense, Bonapartism refers to a broad centrist or center-right political movement that advocates the idea of a strong and centralised state, based on popular support for a leader chosen by universal suffrage.[2]
Legacy
[
]
The Mouvement Bonapartiste (or Bonapartist Movement, in English) is a modern movement headed in France, which aims to spread the ideals of Bonapartism to a wider audience throughout the world. Its articles are made available in an increasing number of languages, and systematically published in French, Spanish, Arabic and English.[3]
References
[
]
↑ Fisher, H. A. L. Bonapartism. Oxford: Clarendon, 1908. Print.
↑ Outhwaite, William. The Blackwell Dictionary of Modern Social Thought. Malden, MA: Blackwell, 2003. Print.
↑ Calland, Paul-Napoleon. Bonapartist Movement mission statement. Retrieved 25 September 2012.
External Links
[
]