| | |
| --- | --- |
| | This article has many redlinks. Please create artices off these redlinks or redirect them to a relevant page. |
Maria Letizia Buonaparte née Ramolino was an Italian noblewoman, the mother of Napoleon I and the wife to Carlo Buonaparte.
Biography
Edit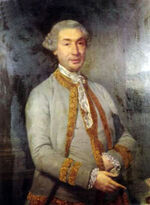 She was born in Ajaccio, Corsica on 24 August 1750[1] to Gian Geronimo Ramolino and Angela Maria Pietrasanta.[2] She was married in 1764 to Carlo Buonaparte. Left a widow in 1785, she continued to reside in Corsica until 1793, when she removed to Marseilles, France. In this city she lived in straitened circumstances. After her son Napoleon became First Consul, she fixed her residence at Paris, France, and had a separate establishment assigned to her, even though she had little taste for ostentation.[1]
All things considered, she conducted herself with great discretion, performing her part becomingly in the station to which she had been so unexpectedly elevated, and never allowing herself to forget that the sudden rise of her family might one day be terminated by an equally sudden fall. She joined the Emperor in his exile in Elba in 1814, and after the events at Waterloo she retired to Rome and resided in the household of her stepbrother, Cardinal Fesch. There she collected most of the surviving members of her family around her and lived to the advanced age of 86, dying in Rome on 2 February 1836.[1]
By her marriage with Carlo Buonaparte, Letizia produced eight children who lived to see their adulthood.[1]
References
Edit
↑ 1.00 1.01 1.02 1.03 1.04 1.05 1.06 1.07 1.08 1.09 1.10 1.11 1.12 1.13 1.14 1.15 1.16 The Encyclopedia Americana Corporation. "Bonaparte, Letitia Ramolino." Encyclopedia Americana. Vol. 4. New York: Encyclopedia Americana, 1918. 205. Print.
↑ 2.0 2.1 2.2 Williams, Hugh N. The Women Bonapartes: the Mother and Three Sisters of Napoléon I. Vol. 1. New York: Charles Scribner's Sons, 1909. Print.
↑ Williams, Edwin. "Historic Illustrations." The Napoleon Dynasty: Or, The History of the Bonaparte Family. By Charles E. Lester. New York: Cornish, Lamport & Co., 1852. 609-10. Print.
External Links
Edit
Community content is available under
CC-BY-SA
unless otherwise noted.